Admin Professionals Day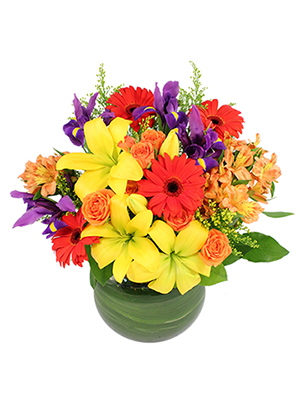 Fiesta Time!
Bouquet
Bring excitement to life with Fiesta Time! With yellow lilies, purple irises, orange mini roses, red gerberas, and orange alstroemeria, this vibrant arrangement brings a party to any room. Bright and colorful, this arrangement is sure to dazzle!
More Info
Secretary's Day is a day dedicated to showing appreciation for the professionals who work hard for you. RAMBLING ROSE FLORIST in West Hills, CA has great gift ideas that are certain to show just how much you really care.
RAMBLING ROSE FLORIST offers customized assorted floral arrangements and gift baskets to fit your needs. Roses, daisies, or plants are a great way to say "Thanks" this Secretary's Day, while a gift basket filled with your secretary's favorite things is a thoughtful, personal way to show your appreciation as well. Browse and order online or stop by our store to place an order with RAMBLING ROSE FLORIST in West Hills, CA this Secretary's Day.